Black, Starr & Frost
10-14-2013, 07:50 PM,
KJMM


The Florentine


Posts: 473
Threads: 29
Likes Given: 0
Joined: Nov 2012
Black, Starr & Frost
I just had an AMAZING afternoon at Black, Starr & Frost in Newport Beach, CA.
Check out their website and history here:
http://www.blackstarrfrost.com/
I was there to take a peek their amazing jewels and maybe even establish a new relationship with a local jeweler instead of shipping things back and forth to and from here to Los Angeles or New York. I was pretty intimidated going there, but they were so good to me. The store was beautiful, right on the water/harbor and filled with priceless antiques. Their in-house bench cleaned, polished, and dipped my jewelry while the SA opened the cases and let me try on and photo their breathtaking and rare jewels.
First thing he showed me was a 10 ct Asscher with SBF—It was GLOWING bright blue. I didn't take a pic of it because I was shy with the camera at first.
Next, this huge fancy vivid yellow: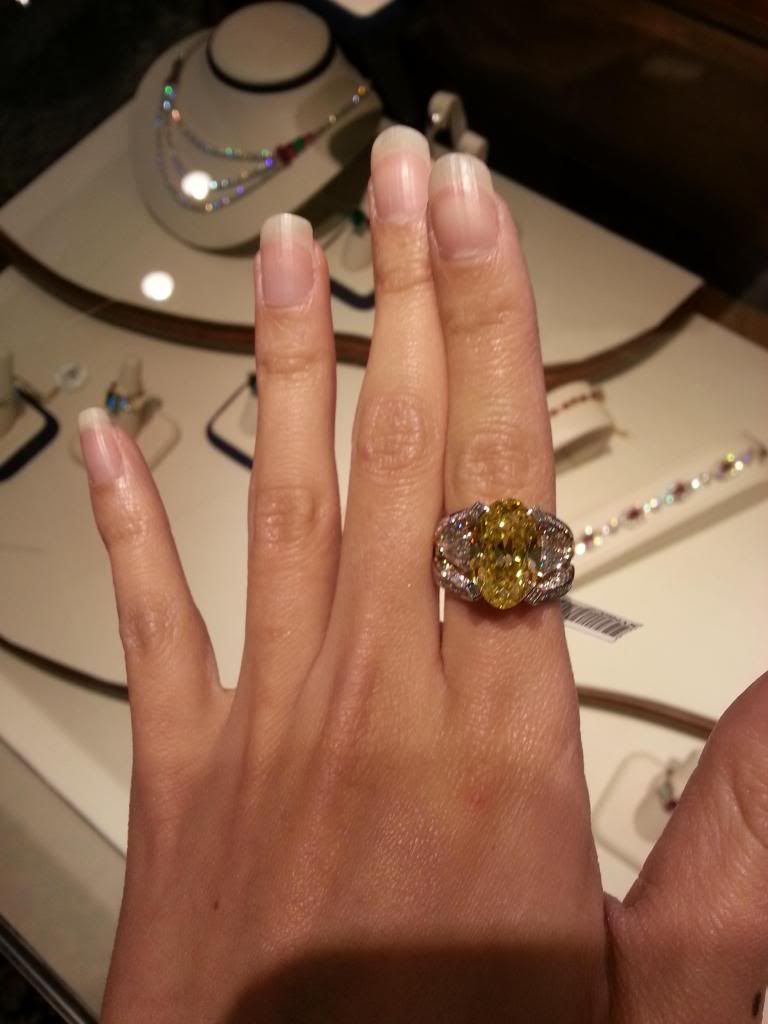 It had these gorgeous step cut shields as side stones and was covered with flawless pave.
An antique brooch with a fabulous antique pear and fabulous millegrain: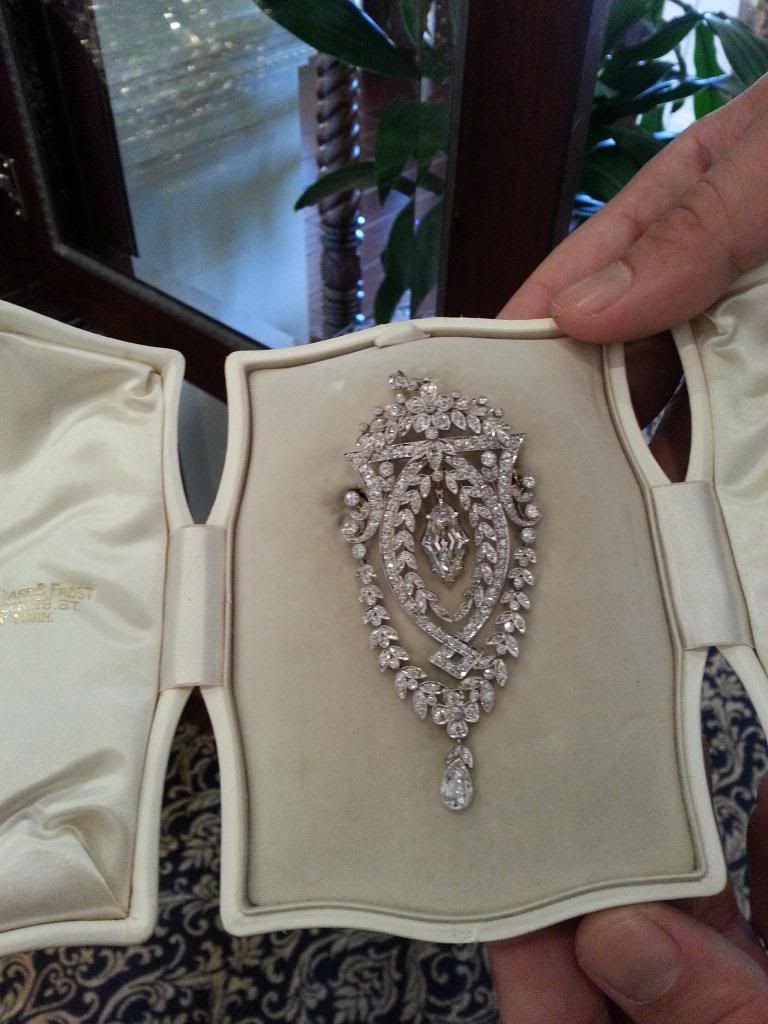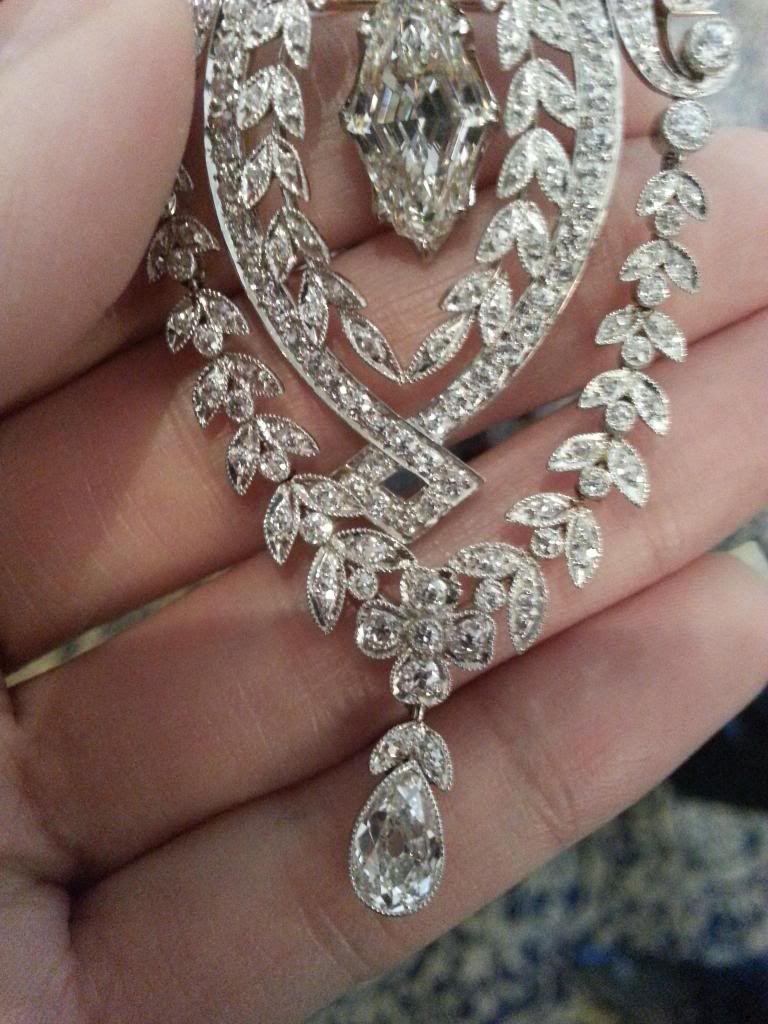 Antique necklace with priceless ancient Egyptian scarabs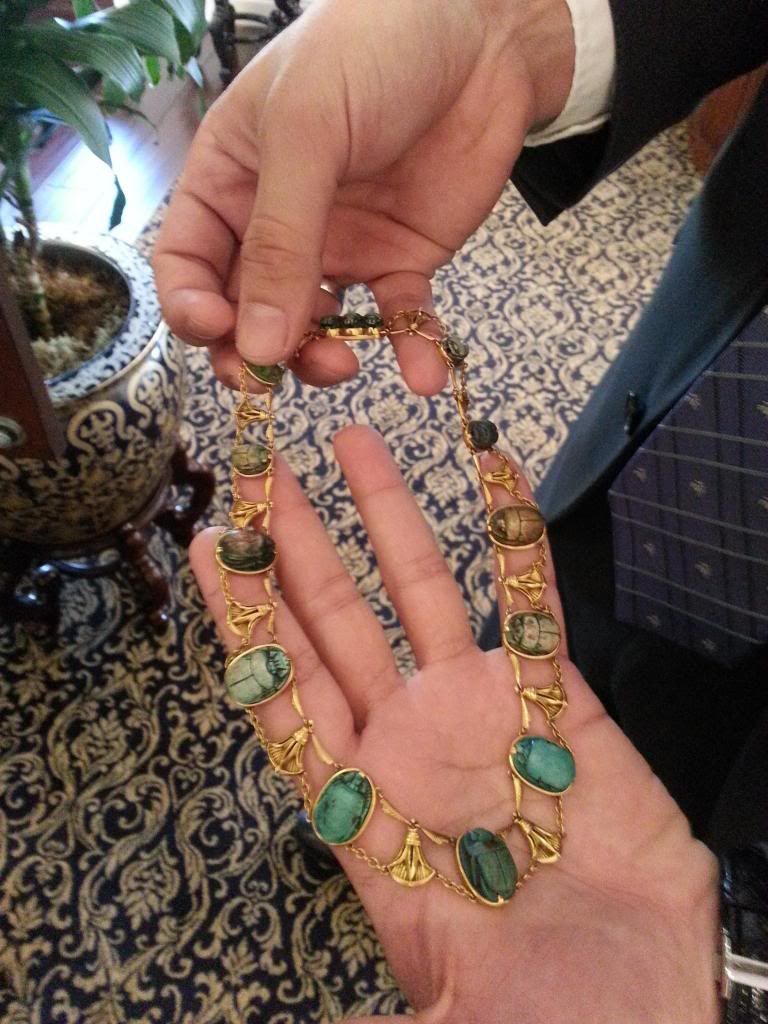 Seahorse brooch with SS pearls, rubies, sapphires, diamonds, platinum, and blackened gold. The pave and gradient of the colored stones is the exact type of artistry I have been coveting as of late. Most of the "fins" of the seahorse were designed so that they can move like it's undulating under water.
I'm sad I didn't get a clear shot of this carved jade, diamond, and plat brooch. The antique marquise was so bright, the jade so green, and the detail so painstaking.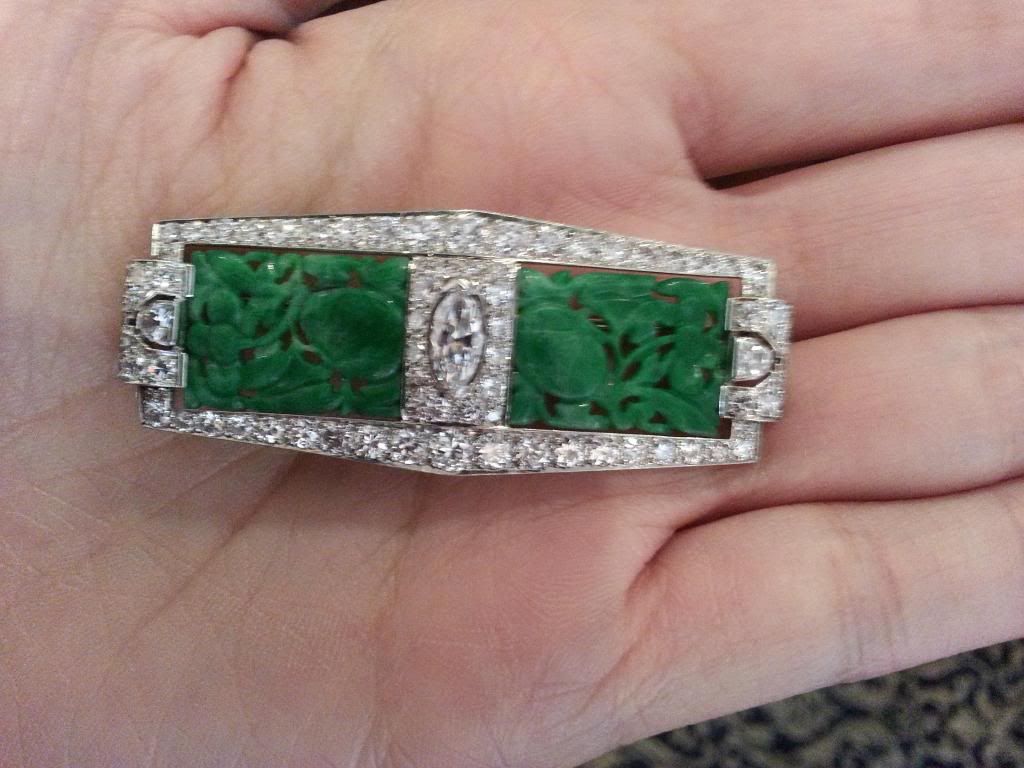 A few rare clocks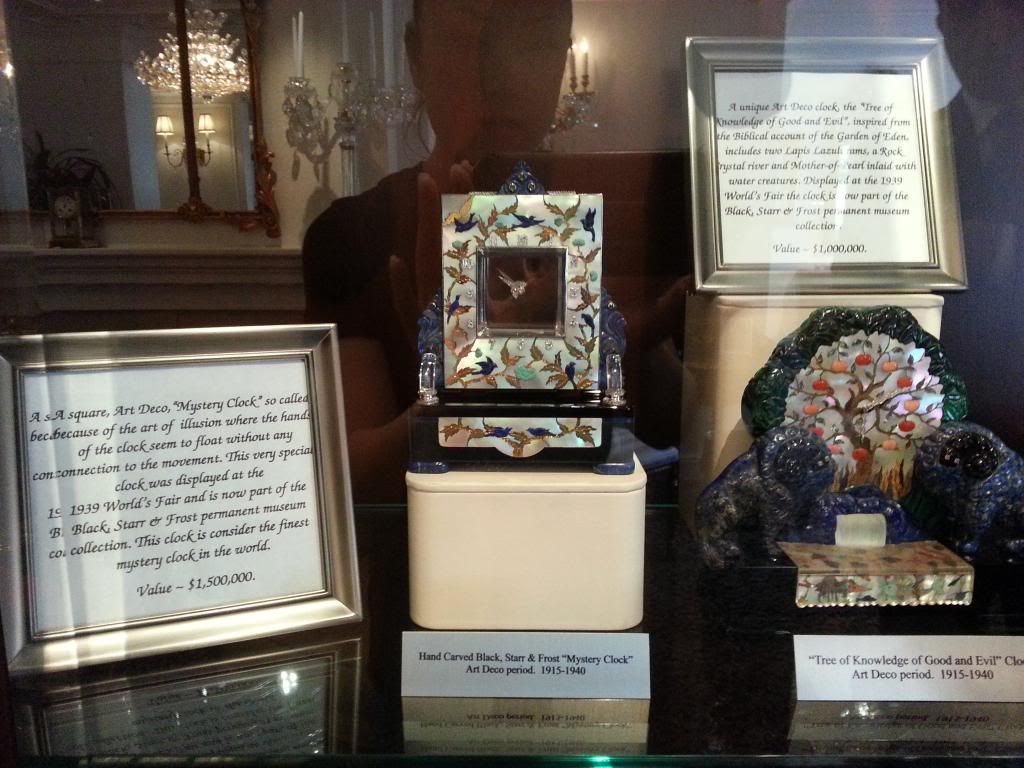 Big Paraiba
Even BIGGER Paraiba. The color on this treasure was just…there are no words. All I kept saying was "OH MY GOD"
This Asscher Art Deco bracelet was huge and gorgeous!!!!!! If I could only buy this one I would! The stones were deliciously warm J color antique asschers, bright, and unspeakably big. My wrist is not just small, the diamonds really were that big!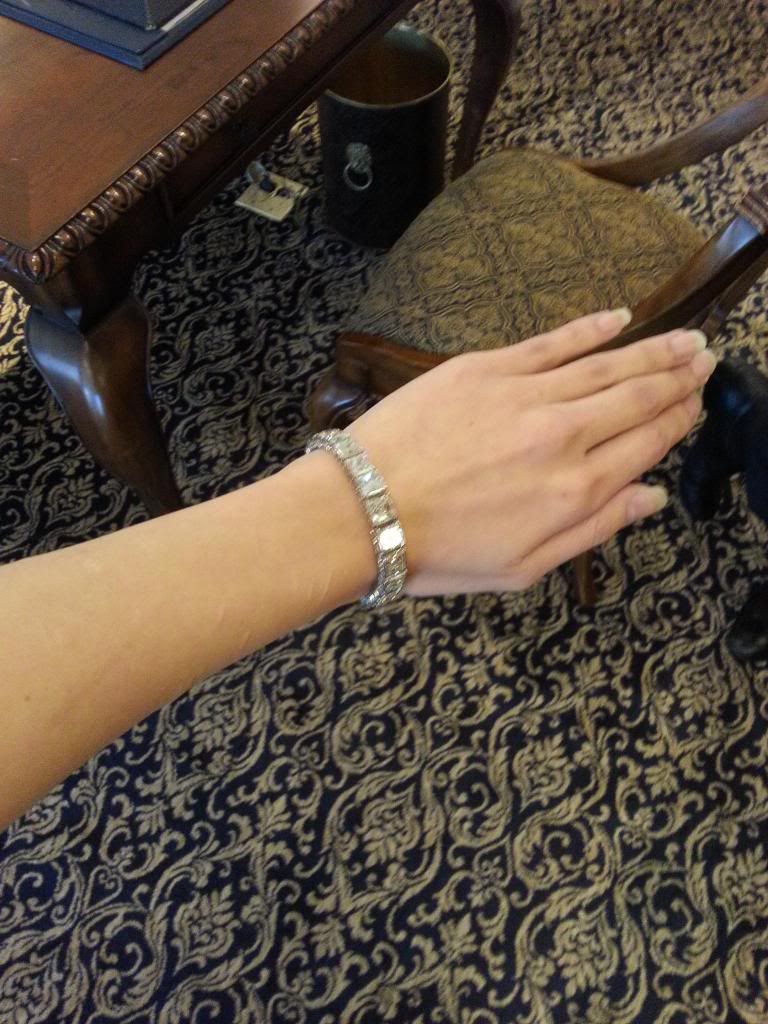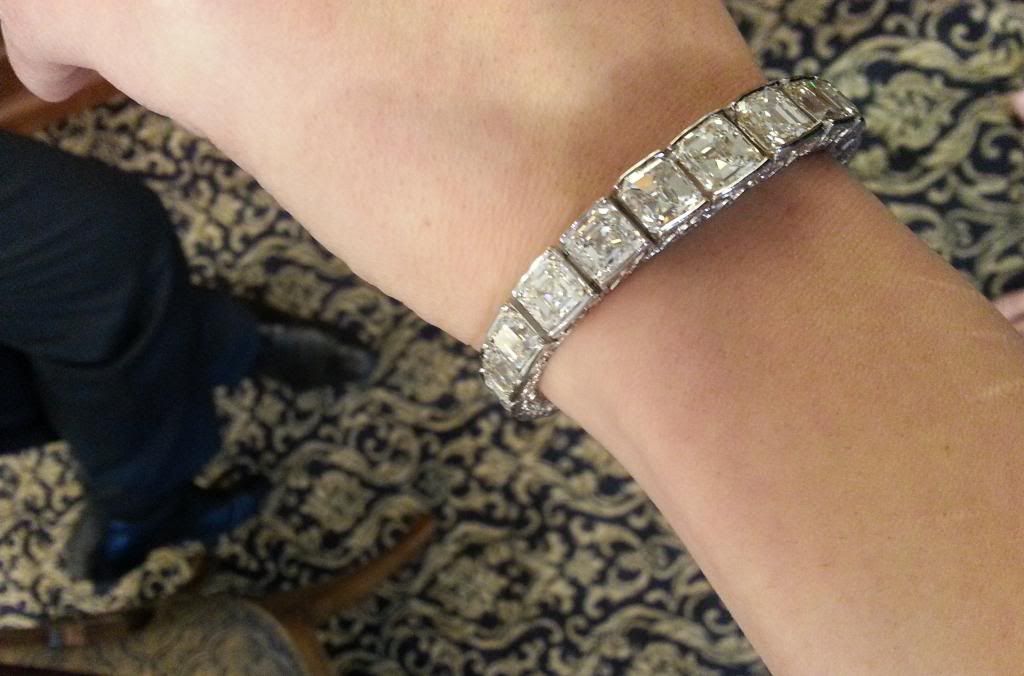 Incredible rose cut diamond necklace!!! It was very sparkly, in a subdued way, and the metalwork was very very fine.
Funny enough I didn't get a shot of the front the necklace, but I was so in awe of the handforged metal work of the back—look at the platinum wires and clean joins—just fluid and fabulous!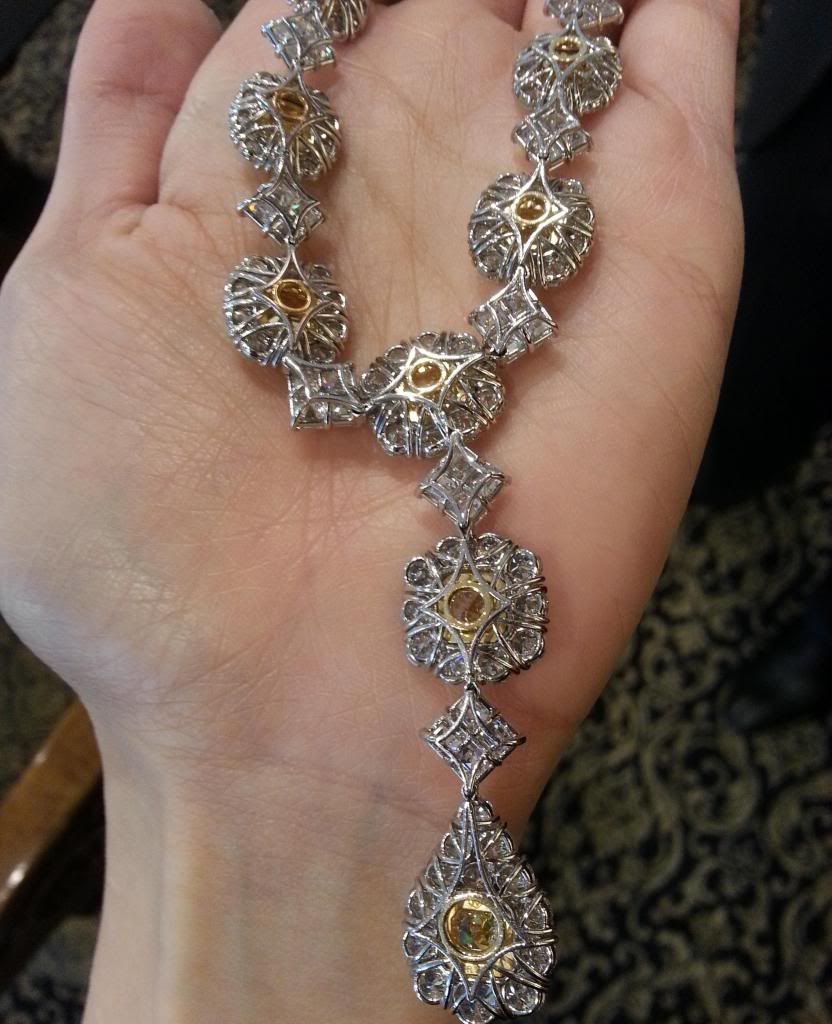 I feel silly not having a picture of the front, they were fancy yellow asschers and white diamonds. I was just so impressed with the metal work of the back: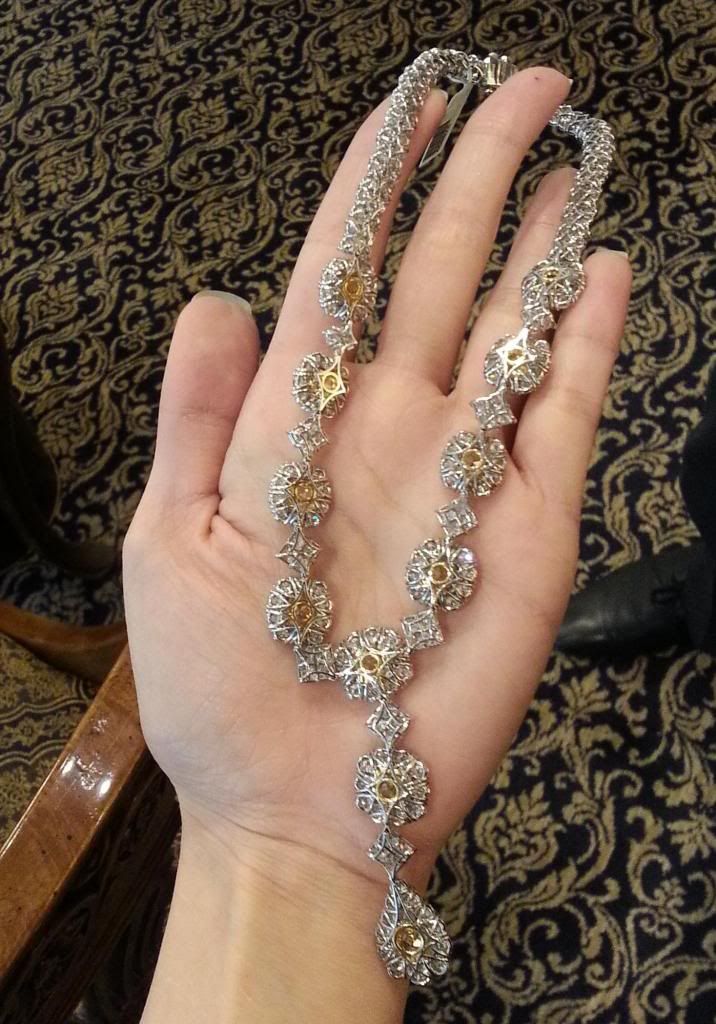 I think he said these were Thai rubies?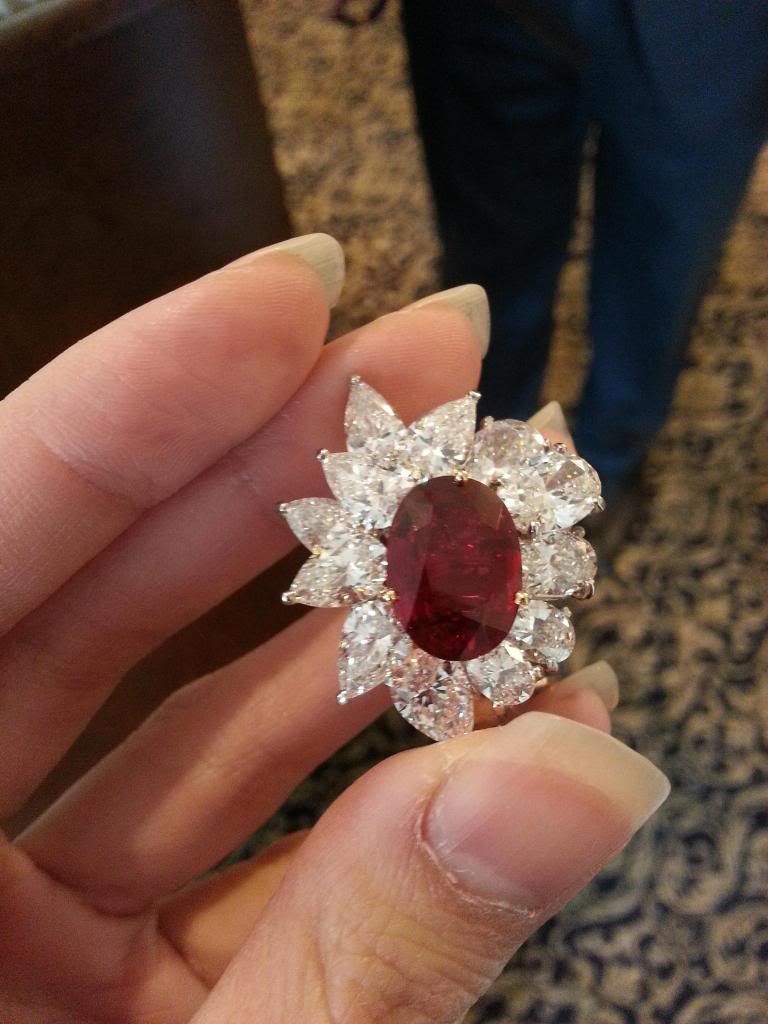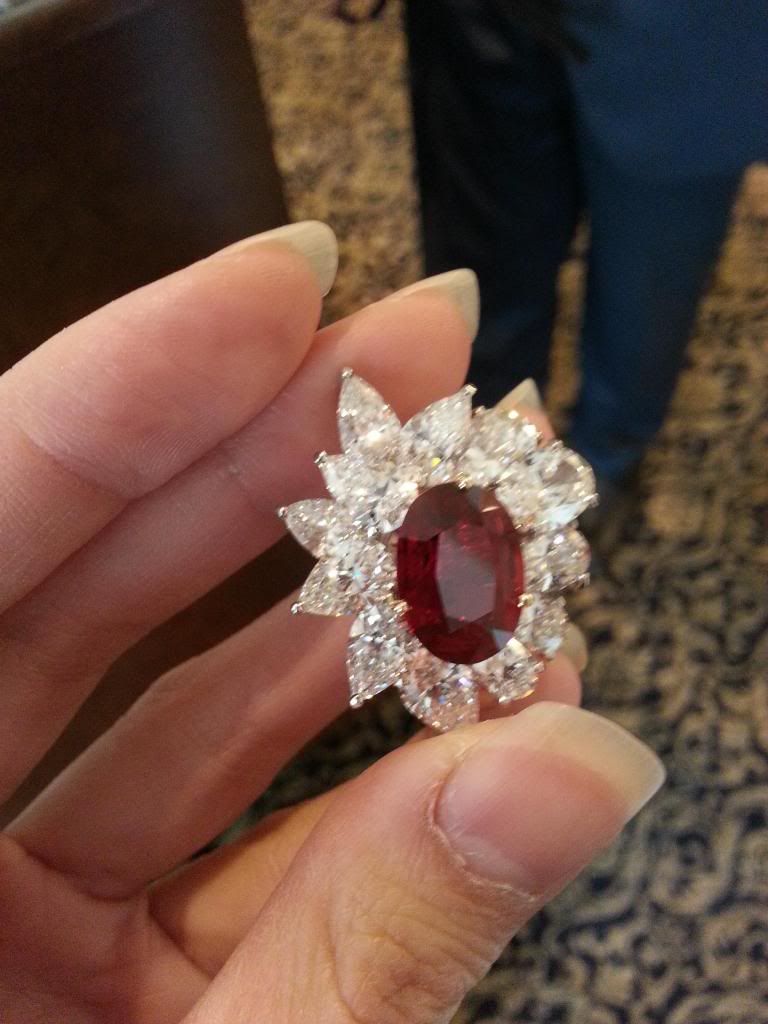 I think he said this was Burmese:
The pave was seriously impressive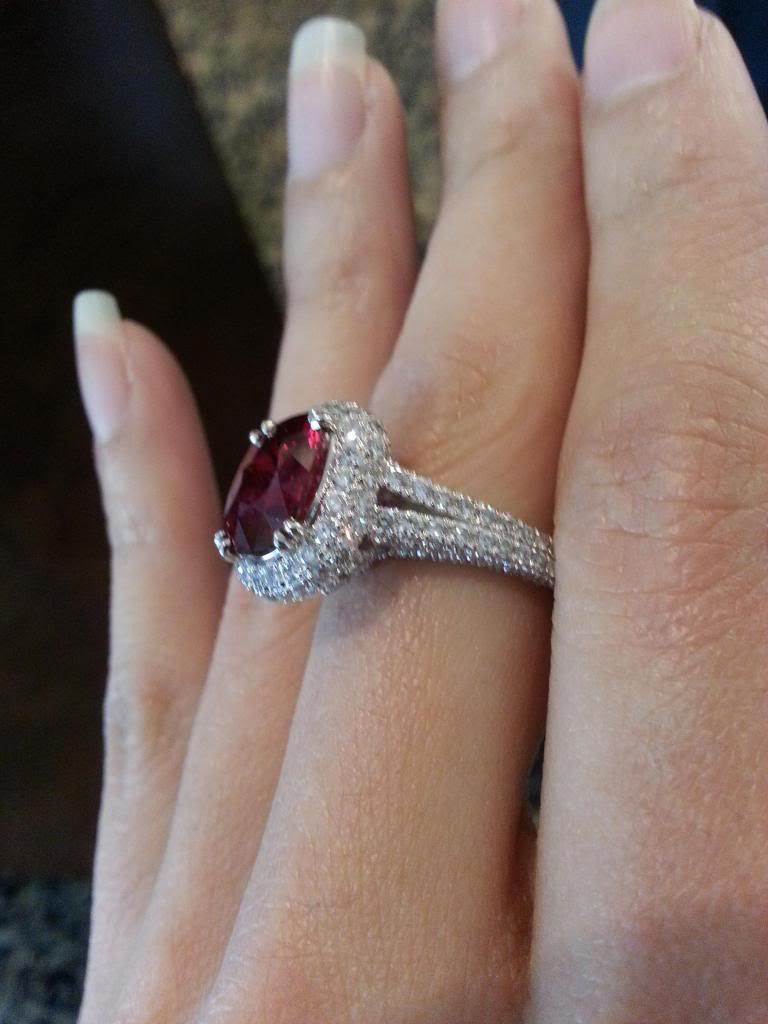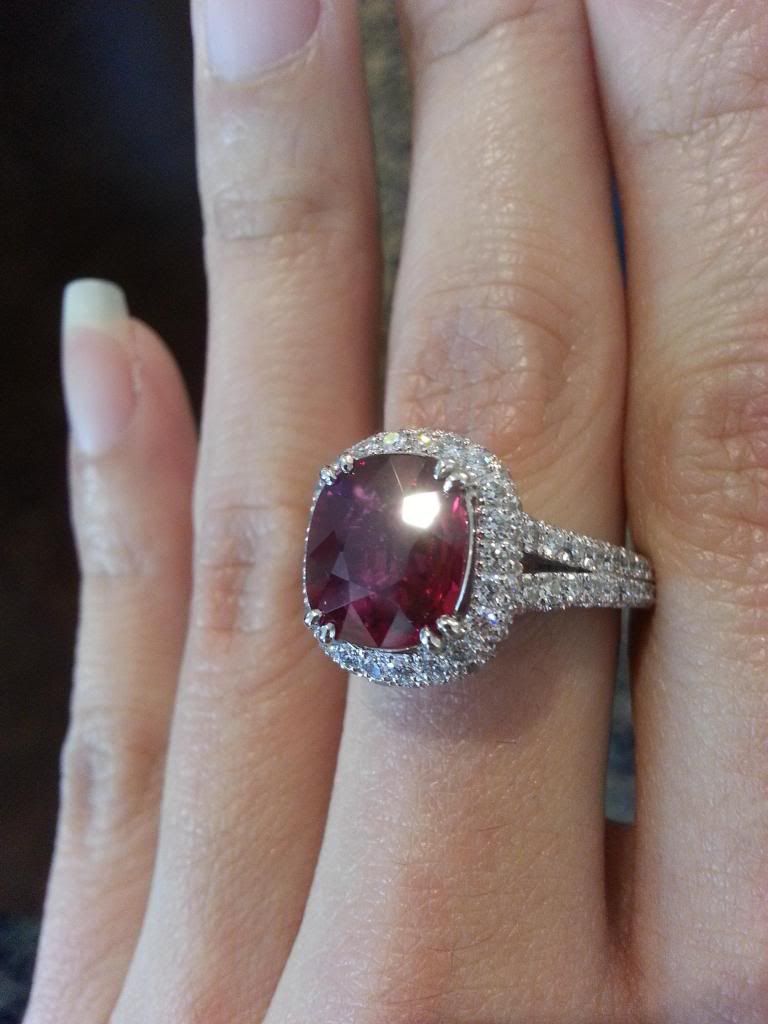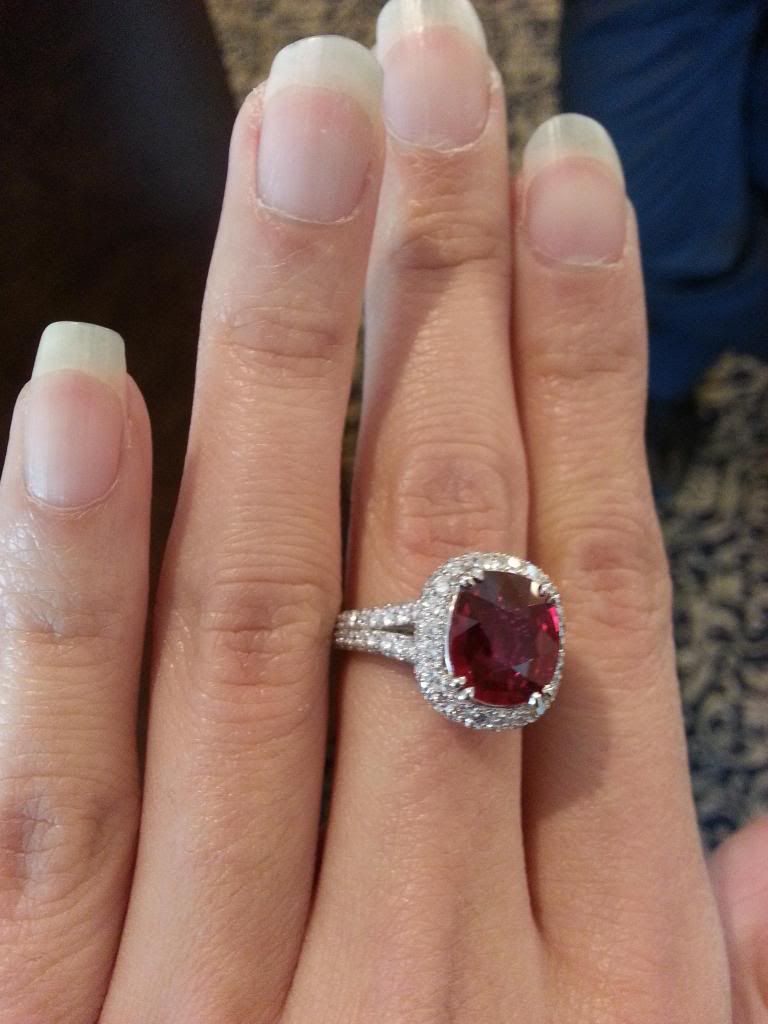 I just about DIED when I saw this humungous Colombian emerald cab. Y'all know I have a thing for cabs/sugarloaves right now. The color was just glorious And at over 40 cts it was a marvel to behold. The fishtail pave changed my mind about fishtail pave…it was so dimensional and delicate--even though the diamonds were large. It was a very heavy ring and I could not stop fawning over it.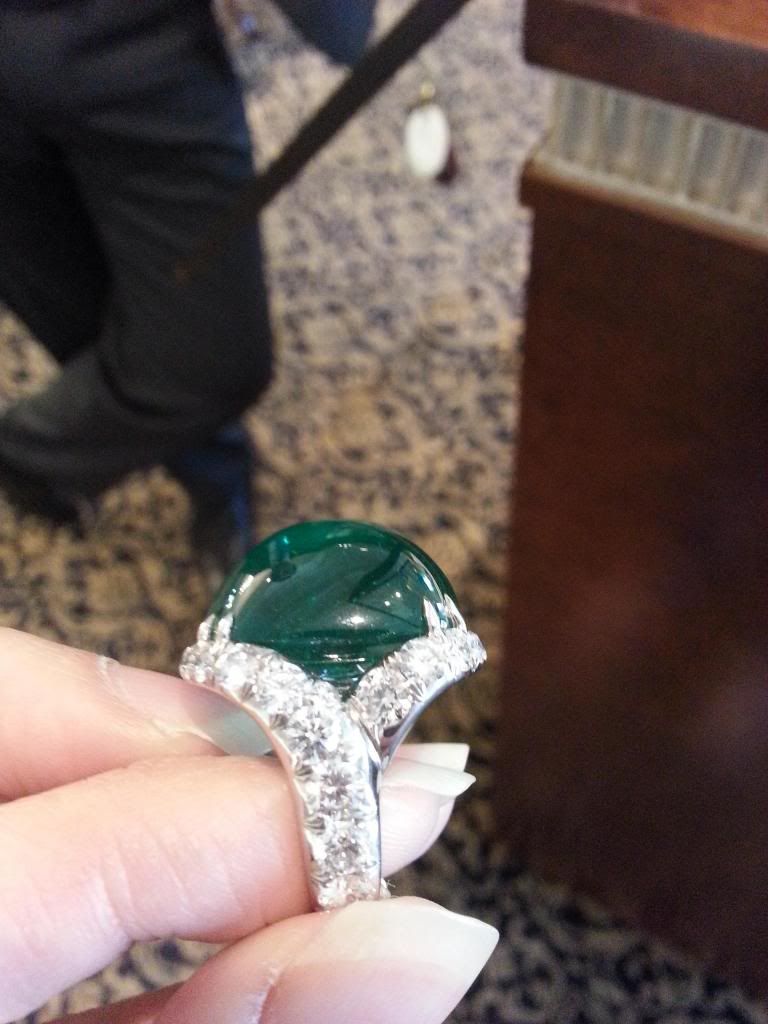 Zambian Emerald and diamond necklace
More rose cuts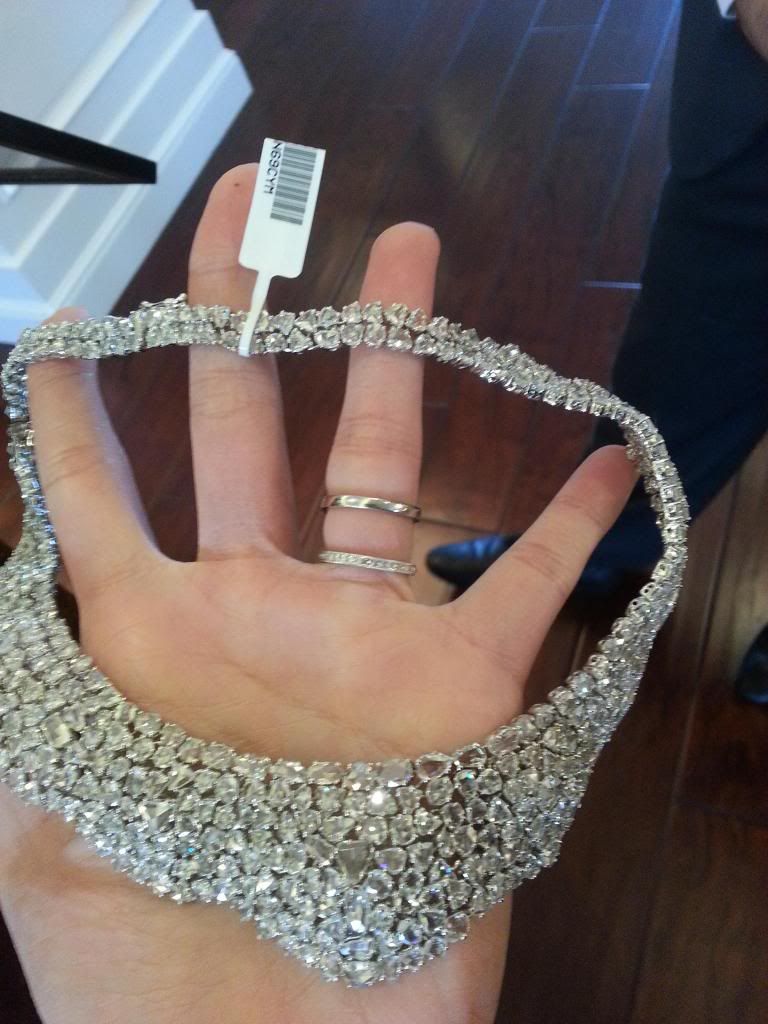 The necklace was flexible, and this is how they did it. I don't know what this is called but the little bars with balls on them and going through and conecting the bezels and allows the necklace to flex.
I ended up leaving a ring with them to be sized, and also discussed the pink diamond project I am currently working on. What I loved most was being able to see and touch these treasures and discuss jewelry, diamonds, and gems with someone so knowledgeable and passionate about jewelry. It was an unforgettable experience and I can't wait to come back!
I was seriously impressed with their in-house bench as well. Almost all of the work was done by their in-house jewler, and his metal work is just--it's defitely some of the best I've EVER seen. Definitley going to be working with him on my next project.
Sorry I don't have more info on the stats, I couldn't remember it all and I think I was just so stunned that I didn't think to ask sometimes. I'm still reeling right now as it is!
---
The following 2 users Like

KJMM

's post:
2 users Like

KJMM

's post
•

mrsmay07

,

Munster Cat
10-14-2013, 07:55 PM,
JooJooBee4


Inactive

Posts: 5,291
Threads: 153
Likes Given: 7
Joined: Apr 2013
RE: Black, Starr & Frost
Ahhhhhhh what an amazing experience KJMM!! The colored stones were out of this world and you model it all so well!! Happy happy birthday and thank you for sharing your special day with us!
---
10-14-2013, 07:58 PM,
MrsK
Hope Diamond


Posts: 9,461
Threads: 126
Likes Given: 354
Joined: Oct 2012
RE: Black, Starr & Frost
Oh my!
Thank you so much for sharing. Everything is just exquisite.
---
One day, I'll be a crazy old lady weighed down by all my baubles and it will be glorious.
10-14-2013, 08:01 PM,
idahosubaru


The Orloff


Posts: 4,765
Threads: 156
Likes Given: 51
Joined: Dec 2012
RE: Black, Starr & Frost
What a great experience! So many beautiful works of art! Thank you so much for sharing it with us!
---
10-14-2013, 08:14 PM,
Turks


Graff Pink


Posts: 1,157
Threads: 119
Likes Given: 0
Joined: Oct 2012
RE: Black, Starr & Frost
Goregous!! THANK YOU for posting all those photos and I'm so happy to hear you had such a great birthday!!
---
10-14-2013, 08:35 PM,
PimpMyRing


Graff Pink


Posts: 1,275
Threads: 40
Likes Given: 26
Joined: Jan 2013
RE: Black, Starr & Frost
Just amazing.
---
10-14-2013, 09:08 PM,
mrsmay07


The Florentine


Posts: 317
Threads: 16
Likes Given: 0
Joined: Sep 2013
RE: Black, Starr & Frost
My heart was pounding the whole time I was reading this post, I can only imagine how awesome it would have been to see these beauties up close! Wow!
---
10-14-2013, 09:11 PM,
EarthDiva


The Orloff


Posts: 4,522
Threads: 54
Likes Given: 99
Joined: Aug 2013
RE: Black, Starr & Frost
These are amazing photos, KJMM! My DD's and I were just salivating over them all together. Was wondering where u live that you have access to all these amazing jewelers. I loooove Newport so much!
---
10-14-2013, 09:36 PM,
RE: Black, Starr & Frost
Amazing stuff!!!!! Thanks for sharing
---
10-14-2013, 09:46 PM,
Blingaholic


Moon of Baroda


Posts: 213
Threads: 9
Likes Given: 0
Joined: Oct 2012
RE: Black, Starr & Frost
WOW.
Just....wow
---
Users browsing this thread: 1 Guest(s)